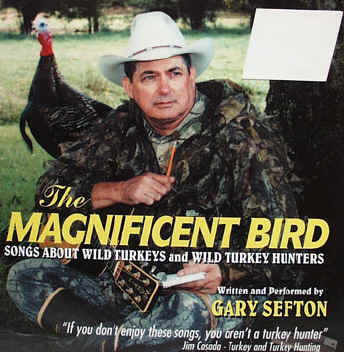 NOT AVAILABLE IN STORES
Listen to 23 seconds of "Ten Gauge Magnum Shotgun"
Listen to 25 seconds of "All Henned Up and Happy"
Listen to 27 seconds of "A Magnificent Bird"
The Turkey Pro Sez: "I have to admit that I was a bit skeptical about anyone being able to write interesting songs about turkeys and turkey hunting. But I was WRONG!
Gary Sefton, a well-known turkey authority, and Nashville songwriter, has captured the essence of the wild turkey hunting experience with his collection of 8 great songs. Any turkey hunter, despite their experience level, can relate to these clever tunes.
Gary has been performing and writing for 25 years. Some of his songs have been recorded by Nashville entertainers John Anderson, Tom T. Hall, Bobby Bare, and other artists. When I first got a preview copy of the album, I played it over and over. You'll do the same thing, especially during turkey season!
Get your Personally Autographed copy Today!"

"The Magnificent Bird"
CD Music Album
by Gary Sefton
8 Great Tunes About Wild Turkeys
& Those Who Hunt Them
The FIRST EVER musical tribute to America's Grandest Bird, and those who hunt it.

Written and Performed by Gary Sefton, professional Nashville songwriter and well-known wild turkey authority.
Each album Personally Autographed by the artist!

Light hearted, well written songs to make you laugh, grin, and giggle


Price: $14.99
ORDER
One remaining