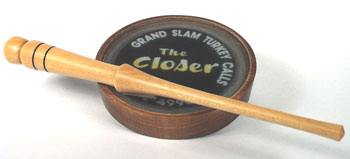 * Exotic yellowheart striker included
Listen to 24 seconds of clucks & purrs, yelps, and cutts
Listen to 6 seconds of clucks & purrs
Listen to 11 seconds of yelps
Listen to 7 seconds of cutts

Read about the advantages of a glass call
The Turkey Pro Sez: "Every turkey hunter needs a good glass call in his bag of tricks. This custom made double glass model from Grand Slam is an example of fine craftsmanship by veteran Call Maker, Fred Cox, owner of Grand Slam Turkey Calls. His reputation for making fine custom calls of all types is well known. Once I got my hands on this call, it became the only glass call I carry to the woods because it does it all.
This call produces loud, medium, or soft clear, high pitched, and raspy double-note yelps. Cutting is perfectly rendered at any tone level. The high frequency tone of this call duplicates an excited, lost hen which really gets a gobbler's attention. It's also excellent for close work--soft clucks, purrs and yelps...hence the name "The Closer". I especially like it for making young turkey calls....kee kees and kee kee runs, which are usually difficult or impossible to make with most glass calls. The Closer makes these fall sounds perfectly. A good way to let a spring gobbler know you are lonely and looking for company is to use a kee kee run.
Unlike using most glass calls, you will not have to search for a "sweet spot" on this call...it sounds good no matter which area is being played. However, I find myself playing the outside edge of the call the most, especially for high pitched yelps, cutts, and kee kee runs."

Grand Slam "The Closer" Double Glass Turkey Call
by Grand Slam Turkey Calls

A Custom Call with Exotic Striker Which Produces Exceptional Sound
A custom double glass call, with an exotic Brazilian yellowheart striker, produces a wide variety of superb sounds.

The pot is made from a solid block of cherry. The surface glass is sealed in place with a solid bead of high-grade silicon. A second piece of glass (the resonator) is secured under the surface glass.

Easy to use and perfect for anyone--exceptional sounds, especially high frequency, high volume, raspy, and medium tone yelps and cutts.

A great closing call too! It makes soft yelps, clucks and purrs to draw a wary tom in those last few yards.
Price: $49.99
ORDER